The Last Day and a Half
On our last full day in London, we started as usual with the "Continental Breakfast" at the hotel. This meal is a story on it's own. They serve multiple dry cereals, a large selection of fruits, sweet roles, cheeses, breads and a selection of jams. When they seat you you are served a pot of perfect hot tea, fresh toast and jam. And as if that wasn't enough, for an extra pound you can have several types of eggs, potatoes, fish and bangers (sausage).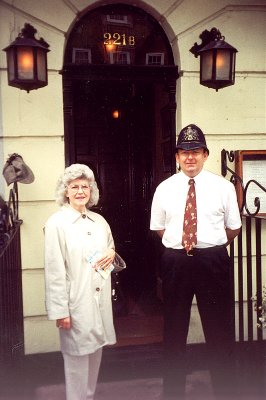 After breakfast we waddled off to the tour bus stop to do our last look see around London. This time we took the Madame Tussaud's Tour. The first stop was on Baker street, so just out of curiosity we walked up the street and imagine our surprise when we found the Sherlock Holmes Museum at 221b Baker street.
For avid Sherlock Holmes fans this place is paradise. They have re-created the 'b' flat just the way Arther Conan Doyle described it. You can imagine Sherlock Holmes and his friend Dr. Watson living in this very flat. Each of the rooms is decorated in period furnishings with items from Conan Doyle's novels placed around the rooms. They have created the feeling that Sherlock and the good Doctor have just stepped out to take a Hansom Cab in search of a case.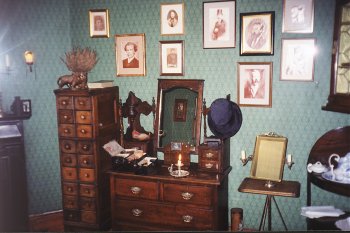 Sherlock's bedroom adjoining the study, is decorated with pictures of family and mementoes from his famous cases. there are file drawers to store clues and contacts he might have used. His possessions are in their usual places: his deerstalker, magnifying glass, calabash pipe, violin, chemistry equipment, notebook, Persian slipper and disguises of course were prominently displayed as well.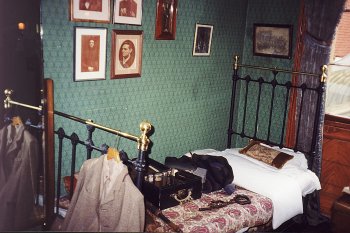 Dr. Watson's room is arranged like a guest bedroom in the museum. In one way you have the feeling the good Doctor has just come for a visit and is living out of his suitcase. And yet his personnel mementoes are all about the room and you see his medical equipment and diaries, as well as magazine articles in the Strand, arranged in an orderly fashion on the table in the corner. Maybe the look is more like a second residence for the good Dr.!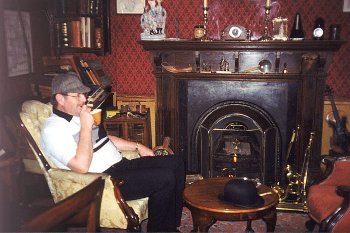 The museum is arranged so you can sit for photographs in the study. They even have props, of course they recommend you use your own pipe. The little study is cozy, warm and comfortable with many reminders of the stories you have read and the many adventures you have followed through Conan Doyle's novels. Each item you look at brings one of the famous stories alive.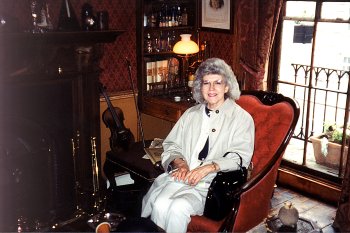 We spent a lot of time in the flat and enjoyed every minute. The curator is available to answer questions about displays and to discuss the background with you if you want. After a visit to this place you have to remind yourself Sherlock Holmes and all the adventures are merely stories from Arthur Conan Doyle's imagination, and what an imagination it was!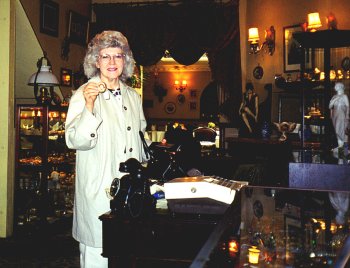 The first floor of the flat "221a" is a restaurant, with loads of period atmosphere, plus a combined antique and gift shop. Mary Jo found a wonderful antique broach, naturally she just had to have it. The broach is lovely and makes a great conversation starter, to recall memories of our visit with Mr. Sherlock Holmes, Consulting Detective and his friend Dr. Watson in their home at 221b Baker Street.
As if we needed more on this exciting day we went on with our tour and visited Winchester Cathedral, had a fine Italian lunch in the Theatre district and started working our way back to the hotel to pack and get ready for our trip home. We took suitcases with lots of room for souvenirs (we thought). So, the packing experience was yet another exciting adventure, but we got it all in and made our list for customs.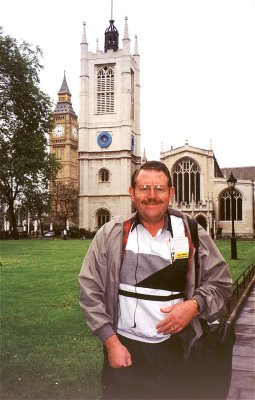 Saturday morning we got up early, too early for one more "Continental Breakfast," and caught the bus back to Gatwick. It was one more, yet different, ride through London and the English countryside. It seems to be a hobby of the bus drivers to try new routes, just to see what is faster.
The trip through customs in Gatwick and again at Atlanta airport was much easier than I expected. A simple declaration form and a dirty look from the US Customs agent in Atlanta and we were on our way back to Seymour, TN. When we arrived at the Knoxville airport Ron couldn't remember exactly where he left his truck. That was good for a few minutes of excitement, we decided it had been stolen. But, when Ron walked into the garage the way we drove in a week ago, sure enough there it was right where he left it!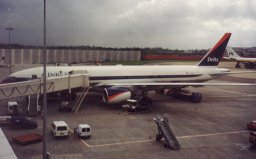 This incredible vacation was ably arranged through Delta Vacations, they handled the arrangements and allowed us to enjoy England.