Touring Bath in S.W. England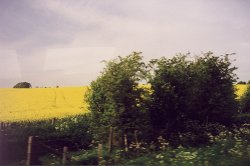 We had toured a great deal of the center areas of London, so we decided it was time to take a guided tour. We departed Early Tuesday morning on the Golden Tours bus and headed Southwest out of London.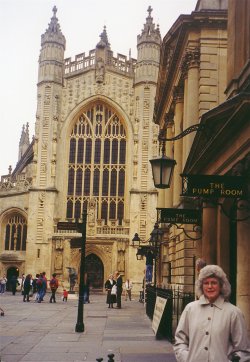 We discovered after we were on the bus we had joined a bilingual tour. Given the choice we will never do that again. We were forced to listen to everything twice, first in English and then in Japanese.
It was almost an hour before we could see anything but city! Moving into the English country side, it became obvious what a lovely country this is. We saw many little villages surrounding small Churches and miles and miles of fields covered by bright yellow flowering plants. The tour guide explained that the plants were Rapeseed plants and were used to make a lubricating and illuminating oil. We soon entered hill country and the scenery changed to rolling hills and farmland.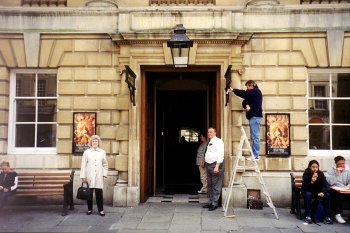 BATH is nestled in a natural amphitheatre in the hill country of Southwestern England. The natural setting, Georgian architecture, crescents, terraces and squares make Bath a lovely village indeed! In spite of all the wonderful things to see, Bath appears to be most famous for the Roman baths built around the natural bubbling heated pools.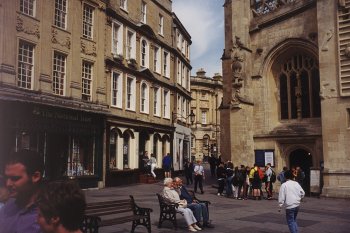 Adjacent to the Roman baths stands the Ruth Abbey and many little shops and restaurants, all surrounding the Abbey Church Yard. We had a choice of several places to shop for specialty items, but were pressed for time as usual on any guided tour.
We had lunch at one of the restaurants on the courtyard. From the outside the place looked interesting, but when we made it inside it was nothing more than a cafeteria catering to the tourists. Looking around the village we discovered this was the norm. But, the fish lunch we were served was good and of course, we were served excellent hot tea.
We don't recommend going to Bath for a gourmet lunch, it is a village of sites and historical places. The shops, great old architecture, scenery and street musicians along the streets of Bath are what make this an area we will want to visit again and again.
We finally found the part of town where the antique shops are located and found several unique items we had to take home with us. Of course, just as we were running out of time we found a huge antique store with everything you can imagine in an area of many antique stores and shops.
The antique stores are a fair distance from the Roman Baths. We were on foot so it was a long time before we found the area and it was too late to fully enjoy it . As if we needed one this gave us another excuse to say we will have to go back at least for the shopping.
If you are an antique shopper, are interested in seeing the Roman Baths or enjoy architecture then plan to spend a lot of time in Bath. We were barely able to scratch the surface of the things this village has to offer.
We were instructed to be prompt since all the other members of the tour would be held up if we were late.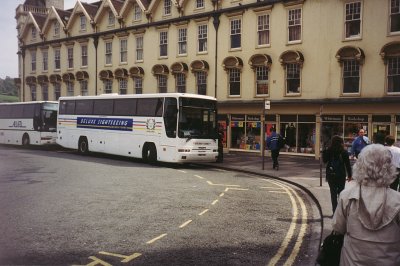 So, all too soon we walked back to the park known as the Orange Grove, behind Ruth Abbey to meet our bus, it was time to move on.
After what seemed like hours on the bus we found out we were waiting for a couple who came down on the previous day, spent the night and were scheduled to ride with us. They never did show up at the park. After many phone calls by the tour guide and another drive around town we found the couple near their hotel. They were told to wait at the wrong place. We could have done the antique store real justice instead of waiting around on the bus. OH WELL, let's get on the road to Stonehenge!