From Seymour, TN to London, England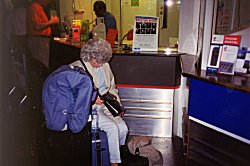 We have both wanted to go to England for years now and on May the 1st, 1999 we finally made the trip. We departed from the Knoxville, TN airport at 3:15 in the afternoon and changed planes in Atlanta, GA. The flight to Gatwick was the inaugural trip for the Boeing 777 on the Atlanta to Gatwick, route, wow what an aircraft. We each had our own little TV screen with a choice of several movies or a constantly updated flight progress map. It is great to know where you are during the flight. The flight from Atlanta takes a little over eight hours, amazingly almost half of that time is over the American Continent.
Early Sunday morning, May the 2nd we arrived at London's Gatwick Airport. Of course the tour bus we were supposed to take to London did not have our name on their list. Mary Jo guarded the luggage while I negotiated with the tour company. Fortunately we had a voucher from Delta Vacations, so they made arrangements for us -- eventually!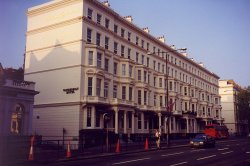 The trip into London, was great fun for us. We were gawking at the English countryside and London suburbs all the way in. It is a long trip from Gatwick to London! Sometime around noon we arrived at the Radisson Vanderbilt in London and got checked into our motel. It took a while to get a room that suited us, but the hotel people were wonderful in taking care of our concerns. The Radisson is in a lovely old building and is being updated to current standards. The hotel has two great restaurants and serves a Continental Breakfast like we have never seen before! More on that later.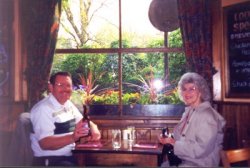 After we were settled into the room it became very clear we were both hungry, so we set out on foot to find a place to eat. We found a lovely little Pub about two blocks South of the hotel across from a park. As you might expect with most everything in London, there are several stories around the Pub. Rumor has it that people believe Jack the Ripper lived in the affluent neighborhood surrounding the Pub and they assume he would have spent a lot of time in it. Also during World War 2 many American flyers lived in the area, and of course frequented the Pub and played baseball in the park across the street. By the way, they also serve an excellent fish and chips meal!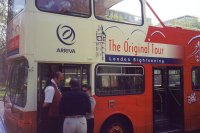 When we were through with lunch the jet lag caught up with both of us so we adjourned to our room for a nice afternoon nap. After the nap we asked the concierge how to orient ourselves with London and he recommended we take The Original Tour bus. It worked out very well for us, you can go on any of the routes and get on or off at any time for 24 hours.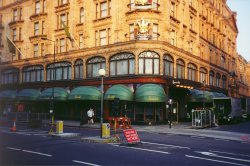 We were surprised to find the Harrods Knightsbridge department store less than a mile from our hotel. Harrods has just about everything you can imagine for sale, albeit very expensive. We didn't take much time shopping today, but made up for it later in the week.
The bus experience did help us to decide what we wanted to look at after we got a good nights sleep. So back to the motel for dinner and some rest.